Stir Fry

– The Collaborations CD – Release 2012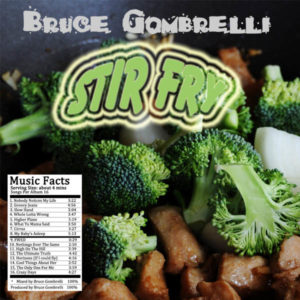 ---
Mixed, Produced and Mastered by Bruce Gombrelli
All songs arranged by Bruce Gombrelli
Ricky Venture/Brent Bennett copyright on Nobody Notices My Life and Nothing Stays The Same (Bruce Gombrelli has copyright on the mechanical royalties)
Guest Artists:
Brent Bennett (Lead Vocals, Lyrics, Melody, Core Music Ideas on some songs)

John Keenan (Lead Vocals and Lyrics on Whole Lotta Wrong)

Paul Harrington (Keyboards on Cool Things About Her, and on 12-2 songs)

12-2 (Ricardo Ventura – Guitars, Brent Bennett – Lead Vocals, Eyal – drums, Paul – Keyboards, Bruce Gombrelli – Bass) – Recorded and produced by Bruce Gombrelli
Released as Bruce Gombrelli's Stir Fry
---
Nobody Notices My Life – (Twelve Two) This song was written by Ricky Ventura (music core) and Brent Bennett (lyrics and melody) with Bruce Gombrelli playing bass. recording and producing the song. It about what the title says. It was recorded live, then mixed in my home studio.
---
Groovy Jeans (Ft. Brent Bennett on vocals) – This song was originally a groove created by Brent Bennett using the Korg Karma. He brought it to me with vocals and some scat. I went out and bought the Karma so I let him emulate his stuff in the studio. I then I added bass and a bunch of other instrumentation to the song, arranged and then produced it. 
---
Slow Hand – Another collaboration with Brent Bennett – I really liked this song and decided to dust it off and remix it with some added instrumentation, and a touch of my background vocals in places. Brent did all the vocals and core song on the Karma. The first version had a groove underneath it. I added drums, guitars, instrumentation, arranged, mixed and produced it.
---
Whole Lotta Wrong  – This song has 2 versions. This one has John Keenan singing, the 2nd one has me and hasn't been released yet. The song was instrumental track was created by me to be a straight forward West Coast Swing blues dance song with some cool breaks. As usual, I did all the instruments including harmonica, and send an early copy to John, only expected some playful raw takes. I liked it so much that I kept his take, slightly re-mastered it and released it. Later on I had gone on to refine the song while waiting for his return copy and created the unreleased "Blues Bonez" which will be released on a future music album.
---
Higher Plane – Higher Plane (I jokingly called it higher pain because we recorded so many takes on it). It was Brents baby with me on guitar, instrumentation and mastering. Brent sang the so many times, strangely, I still like the song! It was one of our version groove collaborations so it has a special place in our musical history. This version has haunting guitar which probably wasn't his first pick, but I loved it.
---
What Yo Mama Said – Re-mix and Re-release of one of my early songs that I wrote for the Audiogrill CD released in 2001. The song was written while I was playing around with SKA/Reggae, etc. It's got some cool breaks done on the RS7000 as was only the instrumental tracks. Brent came by and wrote all the lyrics and vocals. I suggested the Day-O stuff.
---
Cirrus – Cirrus was a beautiful song waiting to be completed. Brent and I vamped the entire song in one take so it was essentially a jam at what was to be a practice take for the song. I had to come back and edit the song to make it complete toward the end, because the song dropped out in a few places and had some random jamming. I added tambourine to give it a rhythm track.  The final version was never completed by Brent so I released this practice take.
---
My Baby's Asleep – Completely in the same vintage as the Brent's other groove tracks. This song was written originally by Brent about Michelle, his then, new girlfriend.  As usual,  and I did my usually instrumentation, mixing and producing work on it. A sweet song.
---
FWED – This is just a little filler section but it's about Brent's daughter hamster I think. I thought it marked this time and it was a cool like amble so I kept it.  There's a song ditty that goes with this but I didn't put it on the CD. It stands for "Fresh Water Every Day". I always though this seem to apply to us and planet earth.
---
Nothings Ever the Same – This song was also written by Ricky Venture and lyrics and vocals by Brent Bennett. Once again, it was live, I played bass, recorded, mixed and produced it. Cool song.
---
The Ultimate Truth – This is an early version of my song "Edge Of Your World" on the Acquisotic II CD. I wrote the lyrics and did all the instrumentation. I had Brent pretty much just sing it using my lyrics and melody. He did an awesome job. This was my response to the 911 attack.  It took a year to produce this tune.
---
High On The Hill – A personal favorite. I wrote this song in one take and then struggled to try to produced the vocals I wanted. I had Brent sing it for this release because I was tired of not getting the vocal the way I wanted and knew he could do it. He sang the melody exactly the way I originally wrote it. Great job Brent!
---
Horizons (If I could fly) – Brent did a version of this later. It's based on a guitar song I wrote and he did the lyrics and sang it. You'll notice in the middle he just scats and didn't have lyrics. This is good representative on how he might figure out the vocal part.  Not the best guitar recording, I used my now defunct blue Ibanez and just couldn't get the sonic treatment on it later. It did have a nice organic feel to it.
---
Cool Things About Her – I was heavily into collaboration mode when Paul Harrington played me this piano track. I added strings and orchestration and slightly cut it. Paul did a great job. I put it on here as a tribute to the fun work he did on "Nothings ever the same" and "Nobody notices my life"
---
The Only One For Me – This is an early take on a techno track I was working on. Brent did a bunch of make up vocal work at the end. The song suffered from no structure but it was so cool and I liked it so much that I wanted to release it. As usual, I did all the instruments and programming.
---
Crazy Days! – Ahh – I had to put this on this CD. I consider it Brent and my funniest, funniest times. I released on Audiogrill (my first new CD) and this is a slightly remastered version. I wrote the entire song and had the verses but no chorus lyrics. Brent came in and nailed it with some "Plastic Woman" stuff. I thought this was a strong song.  Apparently some women were offended when I test played it, but some loved it. Hey! It was a joke already.  I love the psi stuff at the end. Fun guitar work also.