Acquisotic 2
Featuring Bruce Gombrelli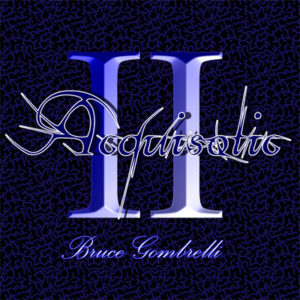 Released 2012
Composed, Performed, Mixed and Produced by Bruce Gombrelli solely by Bruce Gombrelli
Original Artwork by Eric Hartman
---
Paradigm Pure
Absolutely one of my favorite songs created right after the "That's How Dreams Go" sessions but not completed until the same year after the original Acquisotic CD was released. The idea of the song is that young kids start our so innocent and clean, life gets tough, they have to deal with it, but they can turn out alright. A song of inspiration for kids. I put it a rather hard chorus to significant the strife and trials that the kids go through and the lyrics match that idea. The song was written original on the guitar.
Guitars: CA Acoustic – 3 tracks
Lead Guitar: Bannana Baby using bridge pickup, and GT Pro
Synths: Yamaha FS1R
Drums: Midi Recorded and played by using Triton Rack sounds
Organ: E-Mu B3
Bass: Cirrus 5 string through Bass Pod Pro
Microphone: Rhode K1 Tube Microphone
Space floyd part: Fender 12 electric 12 string.
Vocals: 6 tracks
---
Sands Of Time 
(originally shifting sands)  It's complex, It's philosophical. It was based on some unusual guitar chords which I had been working on the song structure for a few years, it then evolved in the studio with complicated vocals and filling parts. It was being working on during the original "That How Dreams Go" session and was the first song completely after the CD was released. The Original idea was that a man went into space and experience something  phenomenal that affected his entire life. He is now reflected on those changes and is going through a buddistic personal revelation, and finally at the end of the song he come to terms with the changes. This song was another "post original release" song that came out of the original Acquisotic sessions.  Very deep song philosophically. This guitar was original created on the guitar also.
Accoustic (Live): CA accoustic (3 tracks) (direct-pieso and miked)
Vocals (Live): C3000B, Tube preamp – 4 tracks to 5 tracks.
Stereo Lead guitar (Live): My Banana baby strat through a pod 6 pro
Backing guitars (Live): Banana Baby in through pod 6 pro in either neck or bridge position.
Synth Parts (Live): 6 tracks of other synth parts generated through a Triton rack and played or sync'd live.
Drum tracks (Mix): Created from highly modified grooves using Cakewalk, sounds are from a triton expansion card. Live drums fills were add later.
Bass Guitar (Live): Peavy Cirrus – Direct to recorder
---
All In You
I consider this a personal relationship growth song which came out of some later recordings.  It's not about my own relationships but again a projection of my philosophy. It says that if you look inside the relationship answers are inside you, trust those instincts, if they say it's wrong, it's wrong, if they say it's ok, then go ahead. This song started is life as a riff on the guitar that you can hear at the beginning of the song.
Bruce: Lead and backing vocals
Bruce: Live Rhythm and Lead guitars
Bruce: Drum tracks
Bruce: Live Bass
Bruce: Keyboard Pads
Recorded on the RS 2480 in 2011
---
Good List
This is a really fun to do song that is about a lady who is sad and down. I give her a list of reasons why she is awesome. Completely fun. Completed right after the "That's how dreams go" Sessions.
Drum: Scored and uses EZdrummer combined with live fills
Vocals: Lead and Backing, 6 tracks, 2 shared with instruments.
Guitars: Fender Stratocasters played live.
Bass: Live, Peavy Cirrus
Horns: Live using keyboard and sound module
Special Efx: Live triggering sound modules
Sometimes we get down on ourselves but if you could see you though my eyes you'd realize that you have some awesome stuff going on!  Not only that but you're very special too.
I originally wrote this song in and around 2006 and left it on the shelf. I pulled it back out and polished it off by adding some vocal tracks and changes, doubled the guitar track with a Leslie guitar and worked on the bass line.
---
Inside Outside
Also created right after the "That's how dreams go" sessions. This is the story of a troubled soul. Things didn't look good, but he was trying to see the answers.  He tried and tried and then, in the end, he found the answer.  Written Oct 2005, Remixed and enhanced July 2006
Bass (Live): Peavy Cirrus, through Bass Pod
Acoustics (Live): Live C&A and Martin D16
Vocals(Live):6 tracks – Tube Condenser
Strings(Live) on end from Triton Rack
Lead Guitars(Live): My Banana Baby Strat and me, using Line 6 Pod Pro
Synth Parts(Live)s: E-Mu XLead, Beat Rom and Korg Triton
Drum Parts(Mix): Some Groove, some hand created using Sonar and
some hand played fill drums using Triton Rack and E-Mu protean drums.
Acoustic Tuning (low to high): GBDGBE
BPM is 105
---
While In Alone
Love this song!! It's so heavy and sad. It was originally called Turquoise Blue. It is written about a person, mainly me, that I'm so alone and sad, laying under my covers in sadness, well, you get the idea. In the end I know I'll get through it. The song was original done after the "That's How Dreams Go" session but I came back and reworked the ending and fixed some areas, and remixed it many times in 2011, 2012 after sitting it on the shelf for a while.  Deep and heavy, good song to end the CD with.
Lead and Backing Vocals, Lead Guitar, Rhythm Guitar, Drum Fills, Organ, Bass, Synthesizer, Effects, Drum Groove Programming
---
Wonderful Week (with you)
This song is a countdown of the days of the week and how I enjoyed spending time with my love. A very fun song. Written in 2010-2012.
Stephanie Gombrelli has a vocal vamp at the VERY end.
Drum were scored on a RS 7000 and then embellished live using various sound engines.
Rhythm and Lead guitars are one or more of my strats.
Lead and Backing vocals are multi tracked.
Pan Flute was played live
String and Horns were played live using a keyboard through a sound module.
---
Terra Journey
There were some other songs I wanted to get done for this CD but they didn't get done in time so they are saved off for a future release. This one I squeezed into it, but I never felt it was a final version. The song is mini summary of the first part of my upcoming Science Fiction Fantasy book, and directly talks about the journey.
Bruce – Guitars
Synths and keyboard – Yamaha Motif – Korg Karma
Drums – Toontrack and Yamaha, programmed and live parts by Bruce Gombrelli
Bass – Dual Synth programmed
Horns – Played Live
Strings – Live
Effects – Yamaha and others